2009
03.17
When you're driving on a windy two lane highway in the desert that does not allow passing, it's expected that someone will temporarily be stuck behind you that does not approve of the speed you're traveling. Saturday night my friends and I drove out to the desert just to get out of the city. After traveling up Highway 79 to Lake Cuyamaca we descended down Highway 78 into the Anza-Borrego Desert. It was at this point that an SUV pulled up behind me and began following way too closely with his high beams on. In order to let the SUV pass we made a quick turn at the next available area, which led to us sitting idle on a narrow dirt pullout that had a tiny trail sign labeled "Plum Canyon". We decided to explore the dirt trail.
After a 10-15 minute drive down the bumpy road we stopped. It was dark and windy and the moon was not yet visible but I could see that it would soon be popping out from behind a mountain. I setup my tripod and experimented with exposures and then waited for a seemingly endless stream of air traffic to die down before I was able to get the photo below.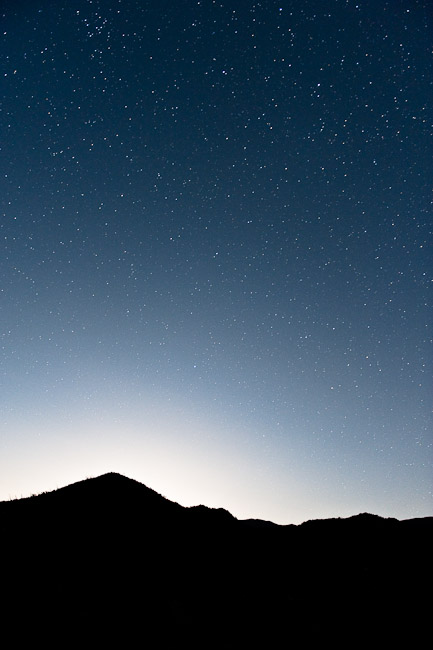 What you see is a 25 second exposure taken at 11:30 PM.