2009
11.30
I'm a volunteer aquarist at the Chula Vista Nature Center. The aquarium deals only with native species and as such we sometimes do collection runs out in the bay. I wanted to join in on this so in January 2008 I signed up and became a certified open water scuba diver through PADI. It only took a couple of dives but I soon bought a PowerShot S60 and the accompanying underwater housing just so I could bring a camera along with me underwater.
San Diego is known for its great weather but that doesn't always translate to great dive conditions for scuba divers. Due to the poor visibility, cold water, surge, waves, currents, etc. many scuba instructors here brag that if you can dive in San Diego you can dive anywhere in the world.
The best visibility I've seen would be about 30 ft but on most days it's closer to 10 ft. Water temperature ranges from 60 to 70 degrees Fahrenheit on the surface to the mid 50s at depth. Full 7mm wetsuits with hood, gloves and boots are the standard here.
Most of the photos were taken between 20-100 ft. The deeper you go the more color is lost until everything is blue-green unless flash is used.
Me gearing up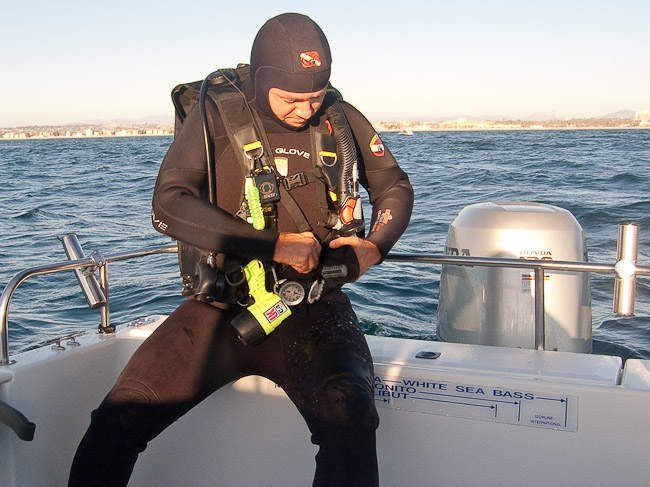 My dive buddies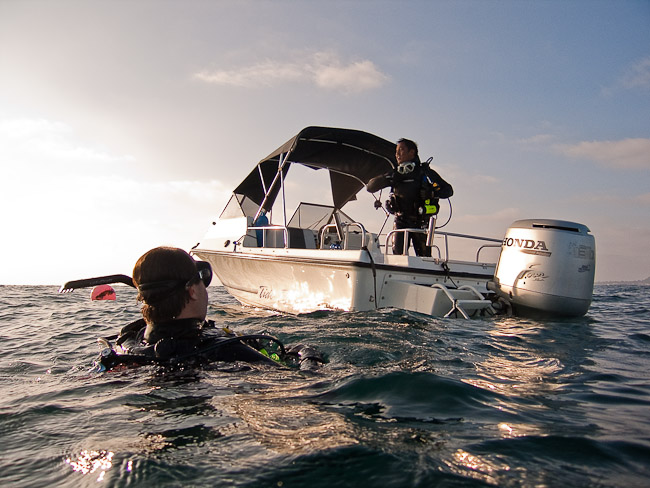 Descending, looking up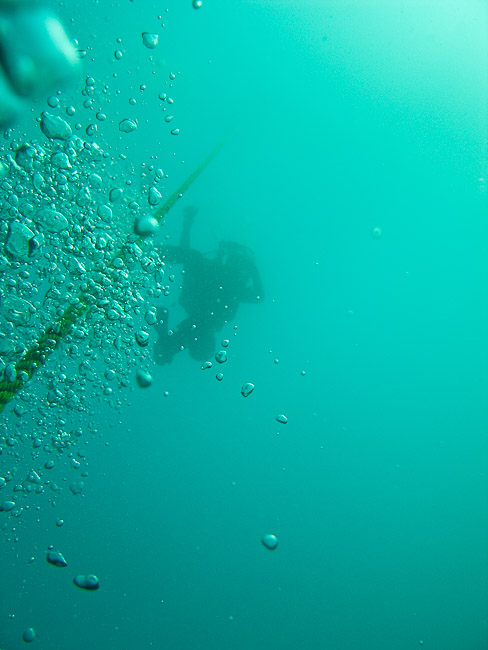 Female California Sheephead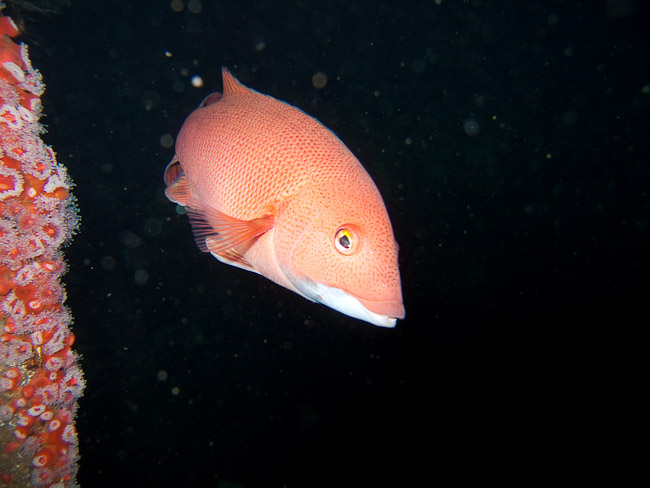 Kelp Forest

Kelp Rockfish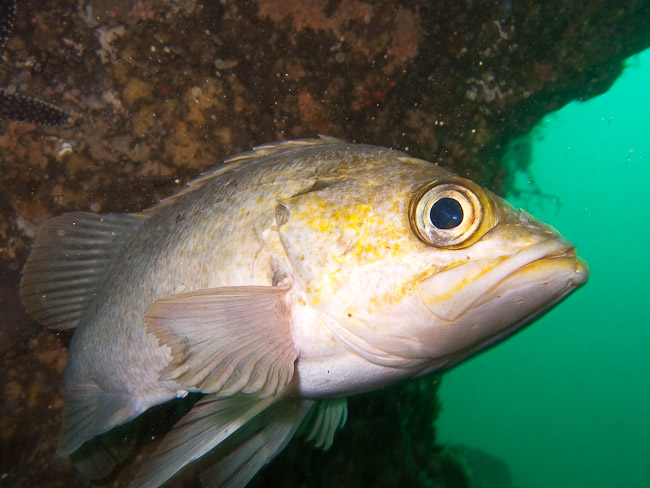 The forward gun on the HMCS Yukon, a Canadian destroyer sunk about a mile off the coast in 100 ft of water. The Yukon sunk prematurely and now lays on her port side.

Garibaldi, the state fish of California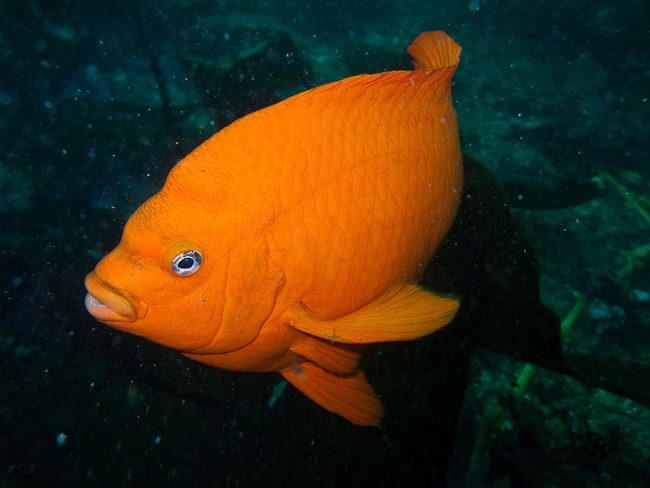 White-plumed anemone on the Yukon (Metridium farcimen)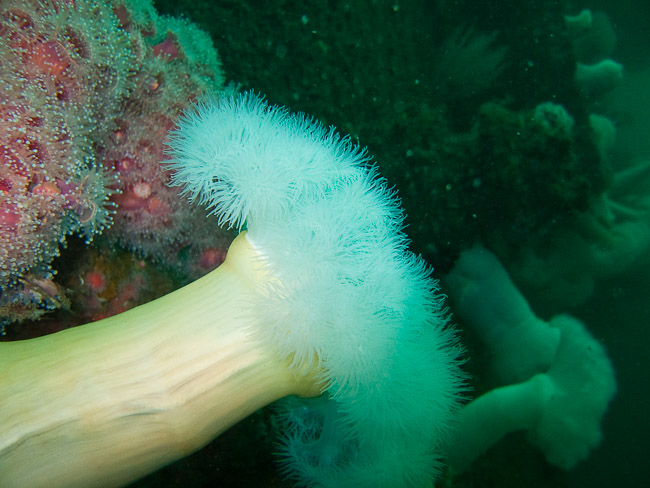 Growth on the Yukon gun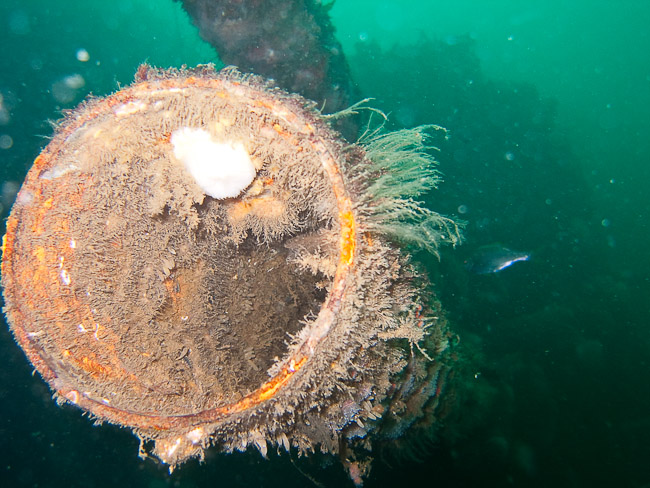 On the surface above the Yukon. The Yukon has 4 buoys you can moor to and then follow straight down to the wreck. You can also see a charter boat in the background.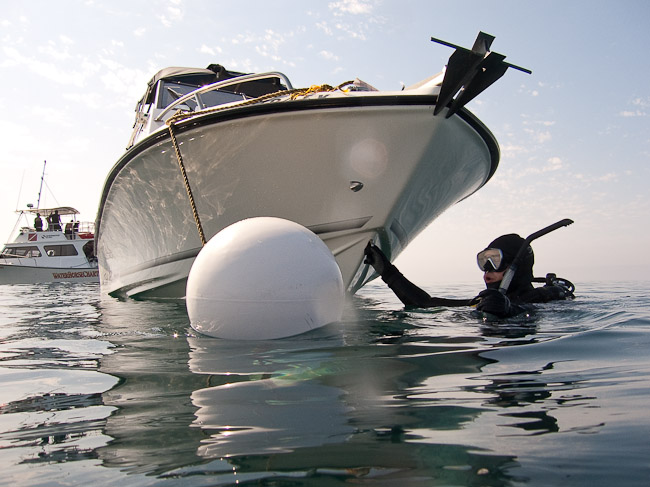 Looking through the hull of the Ruby E. The Ruby E is a 165′ Coast Guard cutter that was sunk in 1989. She now rests at about 85′ and is covered in strawberry anemones (not shown).

Juvenile California Moray Eel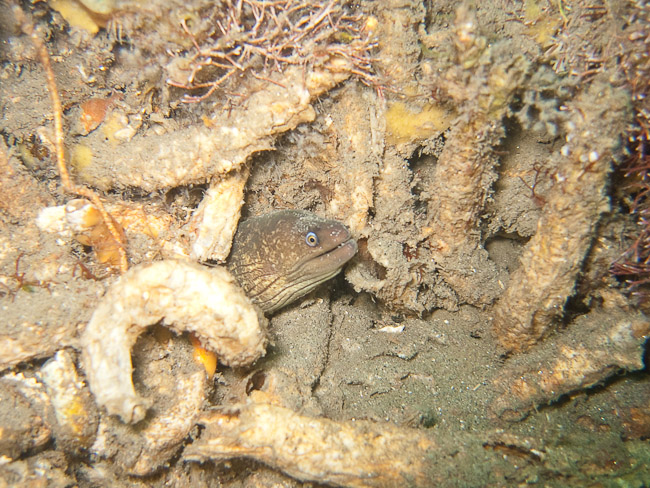 Juvenile California Scorpionfish. Scorpionfish are edible but as the name implies they are venomous. The fin spines are venomous, painful but not fatal.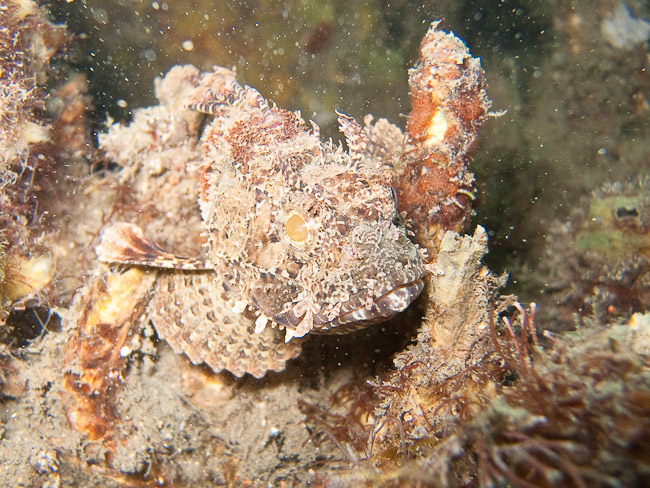 Navanax (Navanax inermis) A sea slug, grows to about 9″.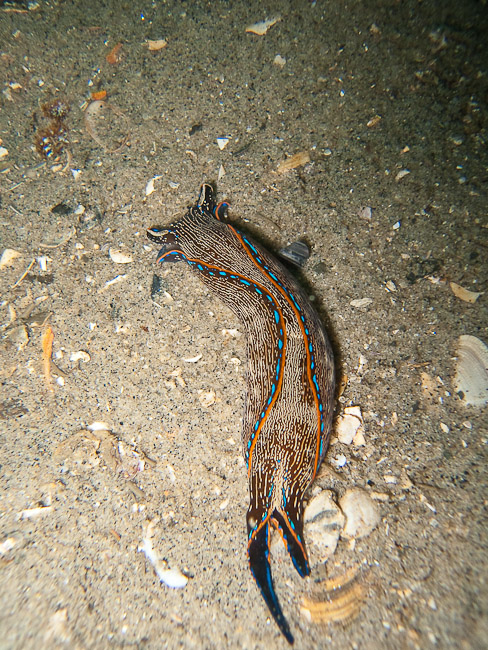 Hermissenda (Hermissenda crassicornis)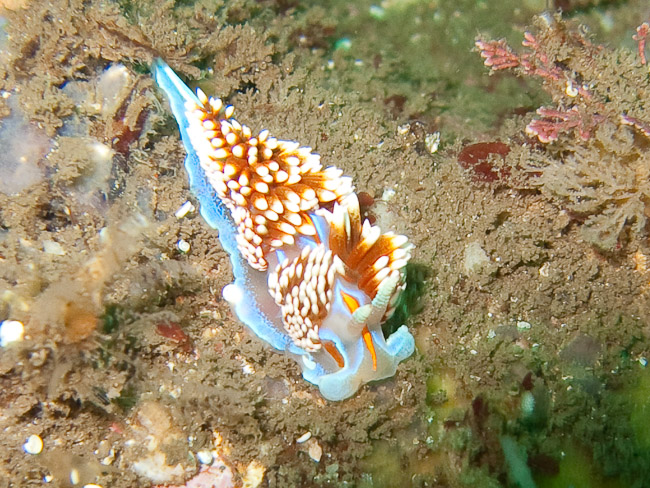 Gopher Rockfish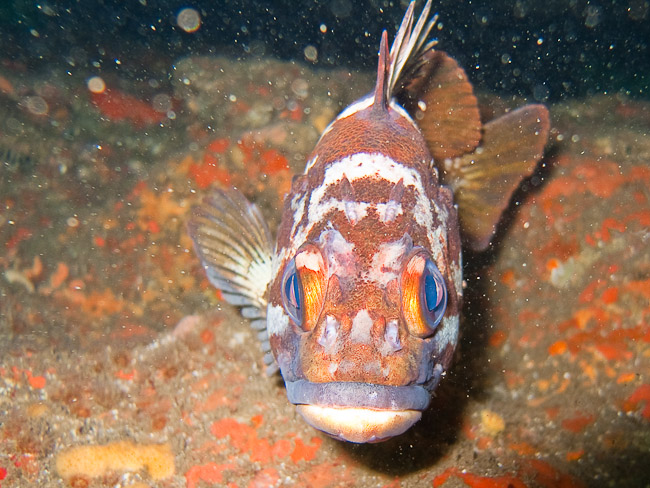 California Spiny Lobsters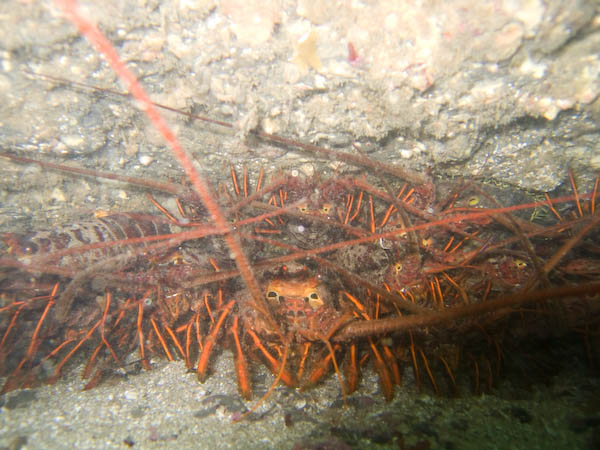 Tube-dwelling anemone (Pachycerianthus fimbriatus)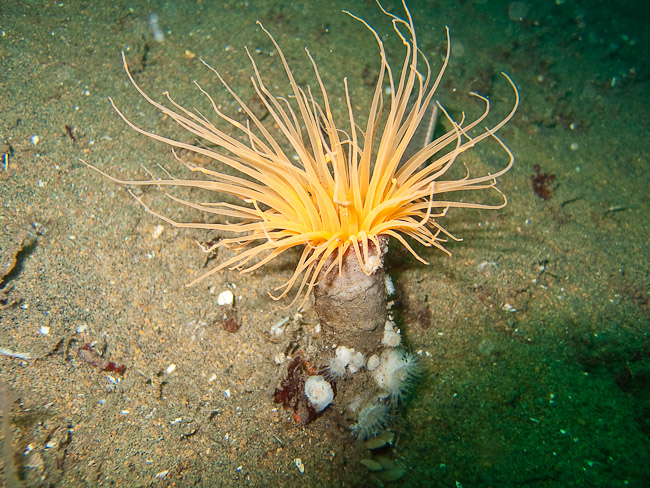 Feather boa kelp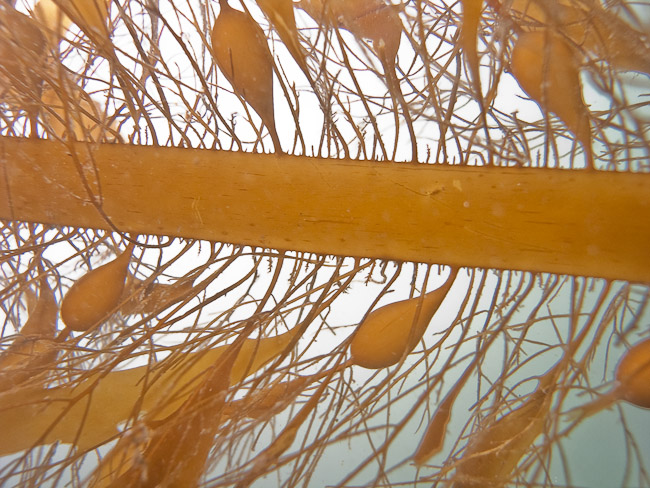 Warty Sea Cucumber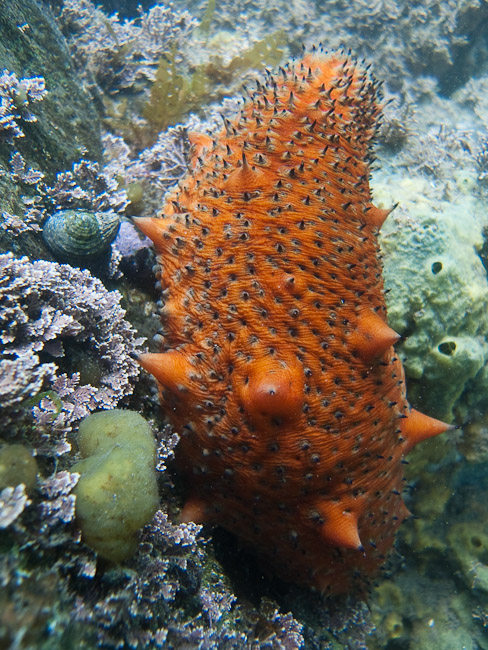 Spanish Shawl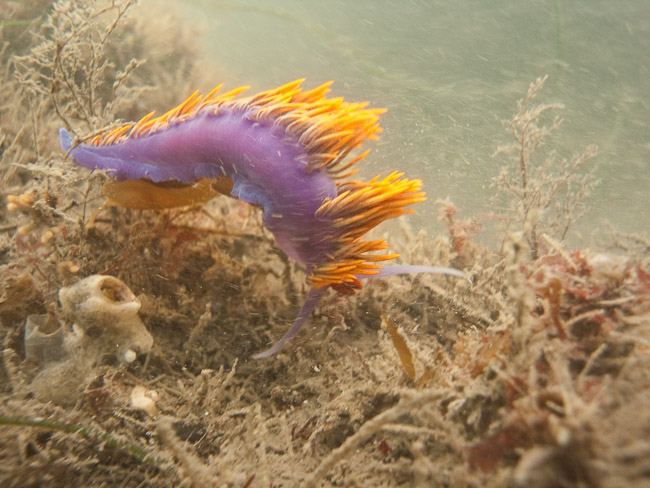 Club tipped anemone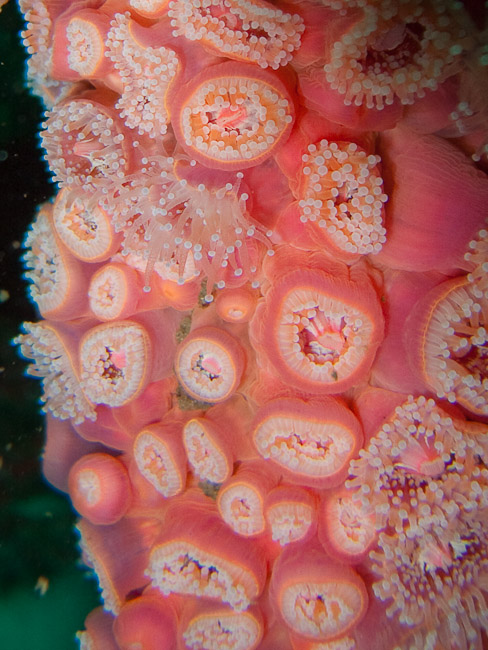 Kelp forest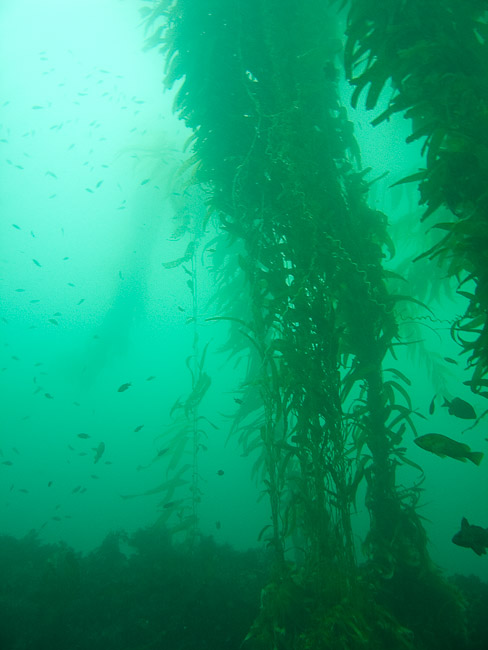 Surfacing after a late afternoon dive.